AGFA Anapurna M3200i RTR
The Anapurna M3200i RTR is a high-speed 3.2 meter-wide roll-to-roll UV-inkjet printer. It prints top-quality indoor and outdoor banners and billboards in a six, a four, or a four color plus white configuration, at speeds up to 123 m²/hr.


The Anapurna M3200i RTR is a 3.2 m wide high-quality roll-to-roll UV inkjet printer that produces indoor and outdoor applications at a productivity of up to 123 m² per hour output.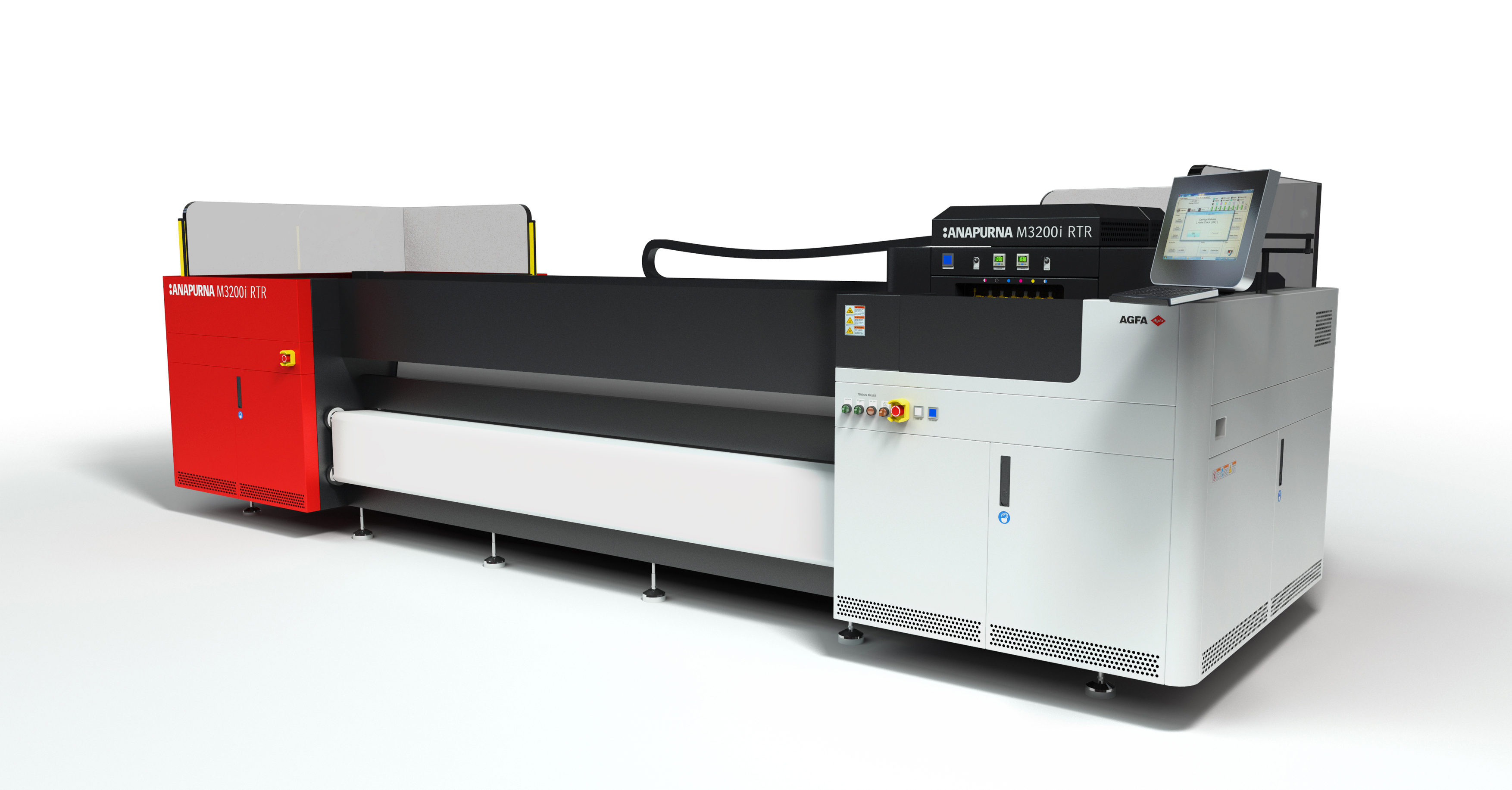 The Anapurna M3200i RTR is a heavy-duty production tool for a broad scope of flexible media for indoor and outdoor applications, it is the ideal solution for sign & display makers, printing shops or commercial printers that want to produce high quality signage in 4 or 6 colors with a maximum resolution of 1440 dpi. The Anapurna M3200i RTR is capable of dual roll printing and printing on mesh without liner.
Printing on a variety of flexible and lower cost substrates, while using less ink and energy for a low total cost of ownership, the Anapurna M3200i RTR helps to increase your profit.

Dedicated roll-to-roll printer
The Anapurna M3200i RTR is a dedicated roll-to-roll printer specifically built for heavy 24/7 workloads. This is the printer that will get you large-format banners up to 3.2 m wide serving the widest range of roll applications for outdoor and indoor prints.

Print quality
The six KM1024i 12 picolitre heads guarantee printing of good solids, fine text reproduction of up to 6 pt, good tonal rendering and low ink consumption.
Next to the 6 (CMYK Lc Lm) print heads this system features a robust and industrial engineered concept, fit for sustained higher workloads. The 1024 nozzles produce prints up to 123 m²/h.

Ink to print
Agfa Graphics' Anapurna UV-curable inks provide a large color gamut, high color vibrancy and, thanks to good ink adhesion, high image longevity and outdoor resistance.
Maintenance of the Anapurna M3200i RTR is easy and during production the ink levels are monitored by the automatic ink refill system. Anapurna inks allow instant curing, making prints ready to handle immediately after leaving the engine.

Banners and billboards
Anapurna inks are ideal for a wide variety of roll materials such as fabric, canvas, vinyl, plastic film, paper and polyester including 100% PE eco-friendly opening many new markets. The Anapurna M3200i RTR with its maximized speed and cost effectiveness is the best digital roll-to-roll solution for outdoor applications in terms of speed and quality for billboards and building wraps.