D-Signs and their Mutoh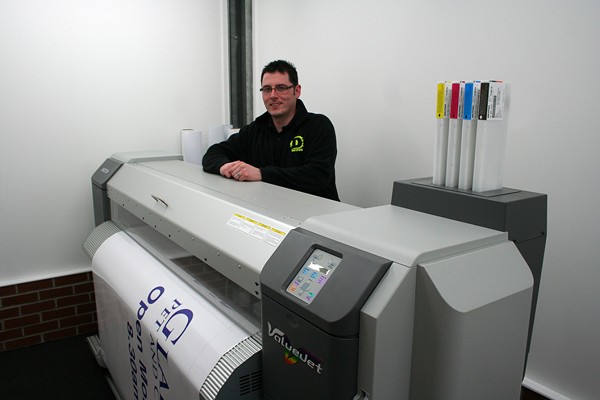 After 17 years working in the sign industry, Dan East finally decided to make the move to be his own boss and strike out on his own, and form sign-making and graphics production company D-Signs. The first major decision he made for his start-up was to decide which printer would best meet his requirements.
After comparing the Seiko and Mutoh products it became clear that the Seiko had the edge on speed but the Mutoh had the edge on quality, making the Mutoh the obvious choice for D-Signs.
"I already knew the ValueJet inside out having worked with one for six years and am really impressed with its performance, quality and versatility," he says.
With some family investment, which provided some security in the early stages of the business, D-Signs set up a workshop in the small town of Stowmarket in Suffolk. He adapted the building to provide a working area with a Kala Starter laminator and table and a separate office housing his desk, the Mutoh ValueJet 1614 and a Kona Cutter. The system was provided by Colourgen reseller Litho Supplies, who Mr. East had an existing and strong relationship with.
"Both Litho Supplies and Colourgen have been very helpful through the selection and installation of the equipment set-up. I have worked with Litho Supplies for some time and completely trust their advice and guidance in this area. Once again they haven't let me down. Colourgen has also been very responsive and professional in terms of getting me up and running and providing answers to any questions," he says.