We are open for business as usual. Contact your local branch between 8.30 and 17.00 or order online 24/7.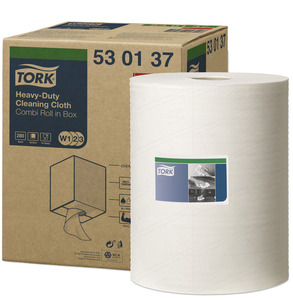 TORK MULTIPURPOSE 53 BOX 530137
(SCA0065)
£126.70
(Per pack of 0: £0)
TORK MULTIPURPOSE 530 BLUE WIPE
The multi-purpose Tork Heavy-Duty Cleaning Cloth is highly absorbent, thick and very durable, withstanding hard scrubbing without falling apart. It works with most solvents and removes oil, grease, water and stubborn spots quickly and effectively, while protecting hands from heat and metal scraps. This cloth fits in the Tork Floor or Wall Stand dispensers, developed for safety and efficiency, and the Tork Maxi Centrefeed or Boxed Combi Roll Dispenser, designed for single-hand dispensing.