We are open for business as usual. Contact your local branch between 8.30 and 17.00 or order online 24/7.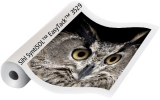 SYNTISOL EASYTAK KISSCUT SATIN SELF ADHESIVE POLYPROPYLENE 325 MICRON FILM. EASY USE FOR CUTTING PLOTTERS. 1067X30M
(3531-42)
£368.68
(Per pack of 0: £0)
SyntiSOL KissCut is a satin coated, adhesive and tear resistant polypropylene film with a water-resistant coating for solvent inks. This special "print and cut" film has a paper like touch and long durability . The low-tack glue grants easy application, as well as residue-free removal.

Advantages
High contrast and good image definition
Quick dry
High water-resistance
Simple to stick, repositional and leaves no residue upon removal
Outdoor application also possible
Optimised for use on cutting plotters