We are open for business as usual. Contact your local branch between 8.30 and 17.00 or order online 24/7.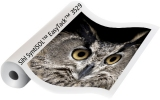 SYNTISOL EASYTAK SATIN COATED SELF ADHESIVE POLYPROPYLENE 300 MICRON FILM WITH PAPERLIKE FEEL. 914X30M ROLL
(3529-36)
£287.30
(Per pack of 0: £0)
Self-adhesive (EasyTack), satin coated and tear resistant polypropylene film with a waterfast coating for solvent inks. The product has a paper like touch and the special low-tack glue allows an easy and 100 % bubble-free application, as well as residue-free removal.

Advantages
High contrast and good image definition
Quick dry and fast ink fixation
Simple to stick, repositional and leaves no residue upon removal
Outdoor application also possible
Easy to use - without professional assistance!