We are open for business as usual. Contact your local branch between 8.30 and 17.00 or order online 24/7.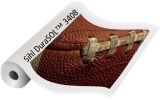 DURASOL LIGHT SATIN ROLL UP MEDIA 220 MICRON. GREYBACK FOR HIGH OPACITY IN DISPLAY AND ROLL UP. 914X30M ROLL
(3408-36)
£293.57
(Per pack of 0: £0)
DURASOL LIGHT 220
Satin finish coated rigid PVC film. A waterfast and extremly tear resistant product. It is superbly suited for use in various display and roll-up systems.

Advantages
High rigidity
Waterfast prints
High image definition
Good flatness and low memory effect
High scratch resistance