We are open for business as usual. Contact your local branch between 8.30 and 17.00 or order online 24/7.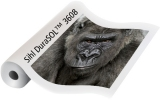 DURASOL 310 MICRON SATIN COATED PVC BANNER FILM FOR POP UPS OR RIGID DISPLAYS. 914X30M. FOR USE WITH SOLVENT INK
(3608-36)
£251.66
(Per pack of 0: £0)
Satin coated, tear resistant rigid PVC film with a waterfast coating for eco- and true-solvent inks. The product has a cardboard like touch. Due to its stiffness, the film is suitable for rigid displays and pop-up systems.

Advantages
Tear resistant rigid PVC base
Waterfast prints
Flame retardant (M1 certified)
High image definition
High grade POS material with high opacity