We are open for business as usual. Contact your local branch between 8.30 and 17.00 or order online 24/7.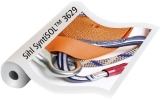 SYNTISOL 170 MICRON POLYPROPYLENE SATIN FILM FOR BANNERS. WATERPROOF COATING FOR SOLVENT INK. 914X40M ROLL
(3629-36)
£205.40
(Per pack of 0: £0)
A satin coated, tear resistant polypropylene film with waterproof coating for solvent inks. This film has a paper like touch and thanks to high colour brilliance, image definition, and excellent durability prints stand are a step above the rest.

Advantages
High tear resistant PP film allows high dimensional stability
Waterfast prints
Combines the ecological and physical characteristics of a polypropylene film with the advantages of highly durable inks