We are open for business as usual. Contact your local branch between 8.30 and 17.00 or order online 24/7.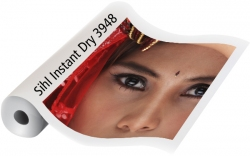 LUNA SATIN ARTIST CANVAS 350GSM FOR USE WITH INKJET PRINTERS. 912X12M ROLL
(3948-36)
Satin artist canvas (polyester/cotton blended) with a 2:1 weave for high quality graphic art applications on inkjet printers. This product is suitable for picture presentations as full colour graphics, reproductions of art on photos. The structure of the fabric is very pronounced which lends the material a decorative effect. Due to the presence of natural components (cotton) in the base material, the surface characteristic may vary slightly.

The satin inkjet coating is scratch- and water-resistant. This product offers quick drying, can be sewn and used as a banner. The satin, water-resistant layer enables use without lamination or varnishing.

Advantages
Robust and felxible base with visible 2:1 canvas structure
Suitable for stretching (no cracking)
Waterfast, satin finish
Instant dry
Excellent dimensional stability
Ideal gradation
Good colour brilliance and high contour definition